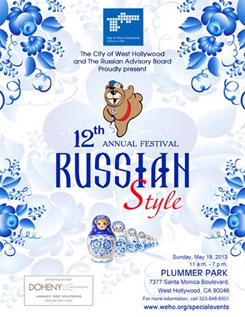 12th Annual Russian Style Festival
May - September 2012
Russian Community Center at Plummer Park
7377 Santa Monica Blvd. West Hollywood, CA 90046

The opening reception and award ceremony: Sunday, May 19th at 11:00 am. Bring your friends and family!
Download Brochure

FEATURED ARTISTS:
Anya Vaiman, Boris Gueorguiev, Ariella Gueorguieva, Max Sapojnikov, Arielle Zaytsev, Emilia Krishtall, Sasha Zaytsev, Anton Anitsky, Emma Berman, Maxwell Poll, Kate Fleishman, Sarah Berman, Nicholas Bykov, Anthony Lau, Alexandr Dorofeyev, Daniel Grigorievskiy, Kayla Eydel, Sherry Eydel, Rachel Hutorskoy,Ethan Bendersky, Eitan Gonensky, Peter Ivanyan, Naomi Zweiback, Anya Jessum, Alisa Bursalan

Visit http://www.weho.org/index.aspx?page=843 for more information.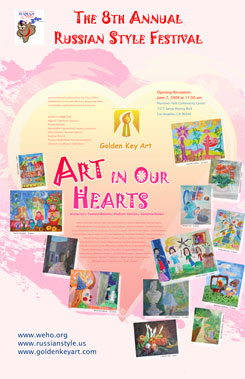 8th Annual Russian Style Festival
June - September 2009
Russian Community Center at Plummer Park
7377 Santa Monica Blvd. West Hollywood, CA 90046

The opening reception and award ceremony will take place on Sunday, June 7th at 11:00 am. Bring your friends and family!
Download invitation card

FEATURED ARTISTS:
Isabella Abramyan, Anton Anitsky, Nicole Ash, Annetta Ayzman,Valerie Beketova, Adrian Berlin, Michelle Berlin, Sarah Berman, Diana Birger, Alex Dorofeyev, Rachell Epstain Katia Fleishman, Kevin Golovaty, Rachel Gruppin, Nicole Guyumjyan, Isabella Kagan, Ethan Kahn, Kevin Khirich, Joshua Kleynberg, Nicholas Kofman, Alina Korsakova, Daniel Kotlyar, Hannah Lifshits, Lillian Lifshitz, Daniel Lvovsky, Ellie Mashkovich, David Mayzenberg, Jackline Mayzenberg, Greg Michalevich, Gaby Minosian, Nellie Nuch, Isaac Nudelman, Rachel Nudelman, Sasha Odessky, Gregory Panchenko, Henry Rogel, Medison Rogers, Rachel Rubinstein, Alexis Shabun, Nikita Taktarov, Rachel Tsymbalov, Daria Vaver, Michael Vins, Ludmila Vins, Ryan Zeetser

EVENT COMMITTEE: Agassi Topchian, Director, Polina Belitski, Alexander Faynerman, Award coordinator, Dina Gontar, Assistant Director, Andrey Pronin, Tatiana Rodzinek, Russian Community Outreach Coordinator, Staff liaison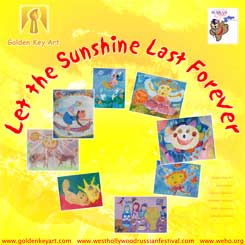 7th Annual Russian Style Festival
June - September 2008
Russian Community Center at Plummer Park
7377 Santa Monica Blvd. West Hollywood, CA 90046

Join us for our annual art show in Plummer Park Golden Key Art presents more than 50 art work of the best students. The award ceremony will take place in September 2008.

FEATURED ARTISTS:
Sara Akselrod, Andrew Anitsky, Nicole Ash, Justin Ashkinazi, Annette Ayzman, Hannah Baron, Valerie Beketova, Stephany Belach, Oleg Belkin, Michelle Berlin, Jason Beznos, Elizabeth Birov, Elan Blum, Violetta Bogdanov, Allen Bogdanov, Daniella Chertok, Galena Chester, Gabriella Dolinsky, Victor Dontsov, Sasha Dorofeev, Sharry Edell, Kayla Edell, Rachel Epstein, Elana Finkinshtain, Lizzey Fradkin, Michael Gilerman, Kevin Golovaty, Tammy Gorohov, Rachell Gruppin, Nicole Guyumjyan, Timothy Karpilovich, Anna Keshishyan, Kevin Khirich, Joshua Kleynberg, Nikholas Kofman, Lawrence Kotovnikov, Maggie Lerman, Lillian Lifshitz, Hannah Lifshits, David Mayzenberg, Greg Mikhalevich, Isaac Nudelman, Nellie Nych, Sasha Odesskaia, Boris Pushkin, Samantha Ratiner, Olivia Ratiner, Daniel Royz, Alexis Shabun, Rochelle Shneyder, Colette Shvager, Nikita Taktarov, Jason Vozovoy